Each year around this time, we like to look at what changes are on the horizon for our businesses in the coming year. If there is one thing that is true about being a small business owner, it's that change is constant. Here is a look at a few changes coming to our businesses in 2022.
Laura Beth: Here's our big change for 2022: we're moving our farm!
As Jascha and I approached the ten-year anniversary of our business, which also happens to be the same anniversary of finding each other in the melee of twenty-somethings, new questions unexpectedly surfaced. What if we had complete freedom to create what we envision? What if we bought our own land?
Once we saw the possibilities, we couldn't unsee them. Some of the issues we considered over many long conversations:
Can we afford it? We crunched numbers, we made crop plans, and looked back at years past in Quickbooks. Jascha currently has an off-farm job; there is plenty of profit to spend on him as a full-time farm employee. We have built some wealth from our business profits and can afford a mortgage.
Do we want to work together? The last time we worked full time on the farm together, our business was a baby and we barely knew what we were doing. So long as we can have lots of separate responsibilities, we feel good about going back in together.
Will this be an issue with our landlords? Thankfully, we talked it over with them and got nothing but support and enthusiasm. We're relieved and grateful!
Can we move our farm? This is the part that scares me the most. We have about two acres of perennials, plus two fancy heated greenhouses, and four unheated hoops. Our landlords may want to retain some of this, but if not, we have to take it all with us. It's doable—but it's a lot of work!
Is there anything else we'd rather do? This was an opportunity for us to consider if farming is really for us. Now would be a good time to quit if we felt motivated by something else. But there is nothing else that gets us more excited than growing plants, working with our florists, building a great team, and enjoying farm life. So we're in it for the long haul!
The experience of looking for our farm during this hot real estate market has been harrowing—and that's a gentle way to put it. That said, one really lovely aspect to buying the farm is that we've chosen to do it with my parents. That means that when it gets stressful or tough, we have each other to lean on. The process has required us to be incredibly vulnerable about our dreams, fears, and goals, and made the four of us even closer!
It feels risky to write this now, as we haven't found our new farm, and all of this could change. In the wild real estate market of 2021, we knew we needed to start asking around publicly for leads on land. So the ranunculus corm is out of the bag, as it were!
I'll share much more about Butterbee 2.0 in Quarterlys to come. I'll do my best to be open about the challenges, the failures, and hopefully some wins. Right now, I feel like my life is drifting in the air. Hopefully it will have come back down to earth by the time I write next!
Ellen: We're Cutting Back our Wedding Schedule
Unlike Laura Beth, we don't have any HUGE changes planned. Each year we try to make changes that will better serve our customers and create a better quality of life for us as owners.
In 2022, we'll be doing fewer weddings overall. The weddings we do take will be small in size and will not include installations of any kind. This probably seems counter to everything we see in the world or weddings right now. Everyone wants a flower-covered arch, floral chandeliers, floral backdrops for photo booths, and more. I get it. We've done lots of these installations over the years and they are always beautiful. They are also time intensive, staff intensive, and in many cases, high stress. They can also be wasteful as they require a huge amount of product that oftentimes gets composted (if we retrieve the flowers) or thrown away (if someone at the venue cleans up) after just a few hours. As I get older and our business matures, I have come to realize that I want less stress associated with my work. I also want fewer 18-hour days. Is that so wrong? Ha ha!
In 2021 we did 37 weddings. The majority of those had some installations associated with them and many included retrieval at the end of the night. This is all standard in the floral/wedding world. The challenge for us this past year was trying to do those types of weddings week in and week out while also trying to maintain our weekly subscription service that started with the onset of COVID. We do about 60-70 deliveries a week to subscribers. And assuming COVID gets better sometime, we want to restart classes and other community events in the shop. Not to mention, the future projects we want to move the needle on. We can't do it all.
It's a little bit scary to make this change because I know that we'll be turning off a big group of potential customers. We have to figure out the best way to market our services to potential clients who are having smaller, more intimate weddings. It's also a little tricky because weddings bring in the most money of all of our offerings. These big-ticket events allow us to buy a large amount of flowers from our growers and keep our team working and creatively stimulated. We'll need to replace the income from weddings with more subscriptions, classes, and possibly new offerings. We'll also need to make sure our other offerings still interest our team, and provide opportunities to buy in large quantities from our local growers.
Doing smaller, less time-intensive weddings will allow us to provide better service to our wedding customers, continue our subscriptions, restart classes, work on new projects, and spend time doing other things outside of work like biking, hiking, traveling, and more. I am a big proponent of figuring out how your business can work for you rather than just you working for the business. It's worth taking the time to make your business work for you so that you can continue to enjoy it for years to come.
Ellen Frost
Local Color Flowers
Ellen Frost is owner of Local Color Flowers. Contact her at [email protected]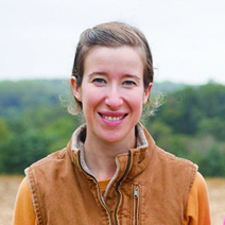 Laura Beth Resnick
Butterbee Farm
Laura Beth Resnick is owner of Butterbee Farm. Contact her at [email protected]